CELEBRATING AN AMAZING SUMMER
As the sun sets on another incredible summer season, we want to extend our THANKS to you for making this summer unforgettable. 
We are now closed for the winter. Planning, building & creating an even better experience for Summer 2024.
We are on site most days and love to hear from you. Please call us on 01797 321885 and leave a message or send an email to dianne@actionwatersports.co.uk
Book your 2024 Adventures

choose your activity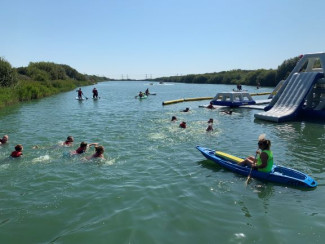 Planning a day with family & friends?
With the huge choice of activities, Action Watersports is really the ideal place for a group looking for a fun, adrenalin pumped experience; you can include as many activities as you like.
We supply all equipment including wetsuits and buoyancy aids -no hidden extras - all you need bring is swimwear and towels.
With Tailor made packages to suit your group, we can ensure great value for money and an adrenalin pumped day. 
FIND OUT MORE

Awards and accreditations
A great experience is really important to us and is reflected in our various awards and accreditations...