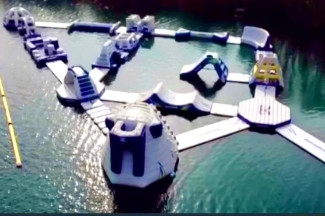 More Climbing, More Up & Overs, More Jump Stations Even a Shute Slide. All New for 2023
The Aqua Park is great fun for all ages, will you beat all the obstacles and beat your friends around the course?  Who will have the best wipe out?
Come and find out by booking now.
We supply Wetsuits & Buoyancy Aids - no hidden costs, so you never have to find more money when you get here. 
Pre-booking is essential, don't forget to add the Action Watersports Aqua Park Socks to your booking, not only do these give you the competitive edge, they are a great momento to take home with you. 
Book your Aqua Park Session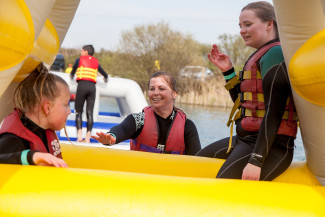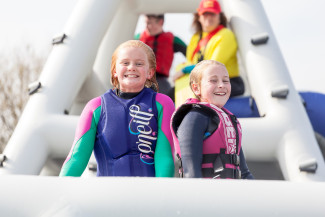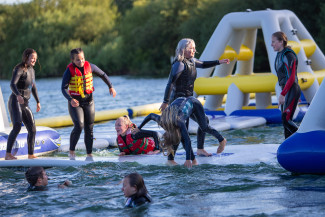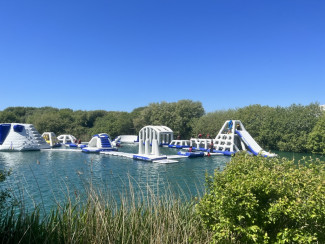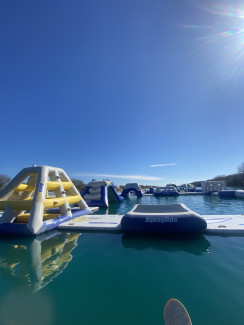 All ages welcome from 6 to 60+
Perfect for birthday parties, school leavers, stag/hen do's or just for a great day out with a group of friends. Whether it's just you and a friend or a group, the Aqua Park is a Fantastic Experience.
Just £23 per person this includes wetsuit and buoyancy aid - no hidden extras
Lots of laughter and a little swimming guaranteed
Why not add a Fun Ride to your adventure - test your balance skills with your friends and family
These fun activities give so many "Remember When Moments".
(Minimum height 1.22m)
Book your Aqua Park Session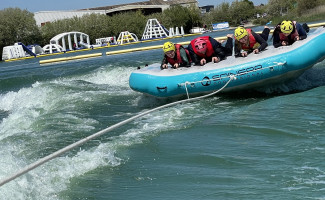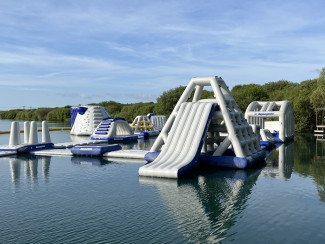 Important information
Confidence in the water and ability to swim 25 meters is essential 
Buoyancy and wetsuit hire included – no hidden extra
Sessions are 1 hour inclusive of a 10-minute safety briefing
Minimum age 6 years old
Minimum height 1.22m 
Children under 11 years old must be accompanied by an adult on the Aqua Park. Ratio maximum 3 children per adult (over 18 years old)
Please arrive 45-minutes prior to your activity time
If you arrive late you may miss your session
Book your Aqua Park Session
Please book online before arriving at the lake
No cameras permitted on the Aqua Park
No jewellery, glasses or goggles allowed on the Aqua Park
Open in all weather from April to October inc. 
Staffed by RLSS Qualified Lifeguards
Have a question or would like to talk to a member of the team? No problem, we're always here to help.
CALL US
How old do you need to be to go on the aqua park?
The minimum age for participation on the Aqua Park is 6 years old. Children aged 6 to 10 inclusive must be accompanied by an adult, on a ratio of 1:3.
Can I leave the aqua park before my 50 minutes is up?
Yes: you can leave before your session is up, however you cannot return to the Aqua Park once you have left.
What happens if I am late?
We cannot be held responsible if you are late and whilst we will do our best to help; this cannot be guaranteed.
Please arrive 45 minutes before you session begins to allow time for checking in amd putting the wetsuit on.
If you miss your session, no refund or credit will be given.
Can I wear shoes?
No shoes are permitted when using the Aqua Park. You can however wear wetsuit socks – no hard soles. Barefoot is more than fine for all activities.