Open Water Swimming
Looking for a welcoming place to swim with great facilities and a friendly atmosphere?
There's no better place than Action Watersports. Our sheltered freshwater lake is the perfect place to train, whether it's for a triathlon, fitness or just for FUN
After swimming on a Saturday morning, you are welcome to leave your car in the overflow car park and go for a run, cycle or both. 
From just £7.00 per person
Click here to read the swimming play-safe code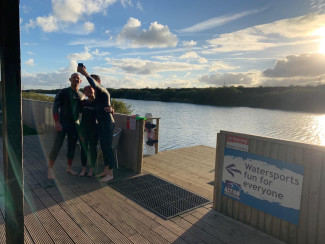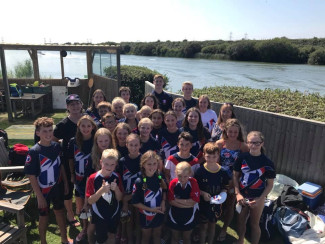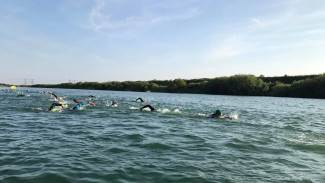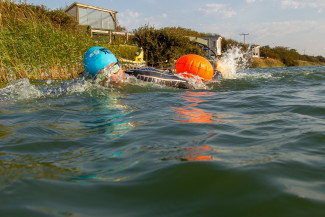 Every Tuesday Evening & Saturday Morning in the summer
Action Watersports' lake proves to be a fantastic open water swimming venue.
The lake is approx. 650m long with marker posts for distance reference, has an easy-to-follow course with user-friendly entry & exit points and warms up very quickly in the summer making it the ideal place to train. The 500m sheltered, straight course offers you the best wild swimming experience.
Tow buoys are compulsory. 
We stock Swim Secure Tow Buoys at very competitive prices. Hire also available – just £2. Wetsuits also available to hire – just £5.00
Opening Times
We are open throughout British Summer Time. As the days are drawing in we have to amend our swim times:
September
Tuesdays: 5:00pm to 6:45pm
Saturdays: 7:00am to 8:15pm
October
Tuesdays: 3rd & 10th - 4:30pm to 6:15pm
Tuesdays:17th & 24th - 4:00pm to 5:45pm
Saturdays:7th & 14th - 7:30am to 8:30am
Saturday: 21st & 28th - 8:00am to 9:00am
Book an open water swimming session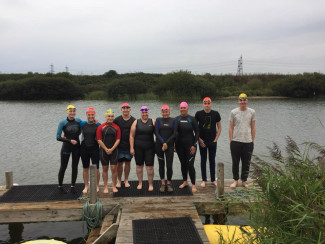 Looking for somewhere to have fun & swim with your dog?
Training for a duathlon or other challenges with your best 4 legged friend? 
Looking for a fun activity that is non weight bearing to protect their joints? 
Swimming with your dog is available during normal swim times.
You will swim well away from the normal swimmers, with easy access via the slipway. 
All humans must wear buoyancy aids, we recommend wetsuits for humans & buoyancy aids for your pup to support their spine. These are available to hire or you can even buy from our shop. 
Just £7.50, your pup goes FREE (please check out the IMPORTANT INFORMATION on the SUP Page (Pups on SUPs) before booking). 
YOU CAN HIRE THE LAKE WITH YOUR SWIMMING GROUP
Are you wanting to organise day out for your swimming club?
Whether it's for training, racing or just trying out open water swimming, we can accommodate you and cater for your needs.
Come and enjoy our freshwater lake with all the onsite facilities.
Prices start from just £190 per hour.
EMAIL US TODAY

Important Information
 There is no observation or lifeguard on duty. Please swim responsibly and swim within your limits
Open Water Swimming requires physical exertion, you must consider your swimming ability before entering the water and ensure you and any children you are supervising are capable of, and are in a fit state of health for swimming in the lake unaided
All children under 16 must swim with an adult 
Tow buoys are compulsory, these can be hired or purchased from our shop.
Swim Caps & Wetsuits must be worn unless agreed prior to entering the water
Book an open water swimming session
Swimming sessions end at 7:30pm Tuesdays & 8:15am Saturdays. Please be out of the water by these times.
Sheltered freshwater lake, perfect for swimming.
500m straight swim course with distance markers
Toilets, changing rooms and showers available
Discount for block booking 
Please read the Swimming Play-Safe Code prior to entering the water. Click here
Have a question or would like to talk to a member of the team? No problem, we're always here to help.
CALL US TODAY