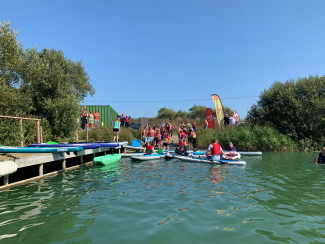 Fancy trying the fastest growing watersport? Now you can...
Chill, Relax & Glide along the water on our Stand-Up Paddle Boards, the perfect test of balance and coordination.
Great fun for the whole family, you can stand, kneel or sit on the boards so everyone can have a go. We have boards to suit all ages from 6 to 60+.
Your SUPing experience will include dry land tuition before you head out on the water to test your skills, with our instructors on hand at all times to give you handy tips.
As you balance on the board your legs and core will get a great workout keeping you stable, and paddling works your arms and shoulders. Who knew working out could be fun?
From just £16 per person. ​Paddle Boarding operates on a section of the lake
Don't forget to add the SUP Socks to your booking. Not only do they give you the competitive edge, they are a lovely memento to take home with you.
LADIES THAT LAUNCH... A CHILLED MORNING FOR LADIES, PUPS AND THE ODD MAN
The whole lake will be available for Paddle Boarding, join us for a drink and cake after.
Monday Mornings, on the water 9:30am to 10:30am, a lovely social morning with laughs, fun and fitness. 
From just £16 per person including all equipment, £19 with your pup or £8 with your own board.
Book your stand up paddle board session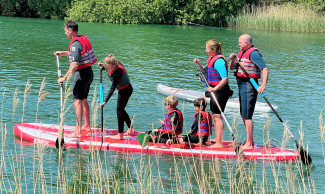 Multi person Stand Up Paddle Board
You and your friends and family on one board? What could possibly happen?
Bring up to 5 guests to share this amazing board with you. Will more people mean faster paddling or more falling off.
An adult must accompany children under 10 on the Multi Person Stand Up Paddle Board.
This will definitely be a "Remember When" Experience!
From just £11 per person
Book your stand up paddle board session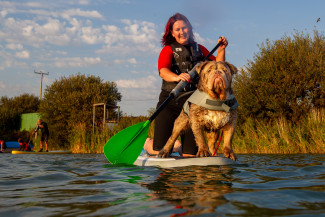 PUPs on SUPs
Stand Up Paddle Boarding with your dog - the best tail wagging and laughter you can share with your pup! Experience this new and exciting activity together, in the great outdoors!
We supply everything a human needs, wetsuit & buoyancy aid - just bring a buoyancy aid for your dog if needed, not compulsory, only if they can't swim!
Our instructors are on hand to offer you all the guidance and assistance you need, once you're happy on the board your pup can join you. 
These sessions are all about enjoyment with your dog; it really is the best fun you can have with your furry.
Now available EVERY MONDAY MORNING 9:30am to 10:30am
Or Monday evenings: 9 & 23 (Sold out, sorry)  May, 13 & 27 June, 11 & 25 July, 8 & 22 August, 5 & 19 Sept. Please choose one of these dates when booking. 
Just £22 per person, dogs go FREE. You can come and join us without a dog if you'd like to SUP on the whole lake. 
Book your Pups on sups session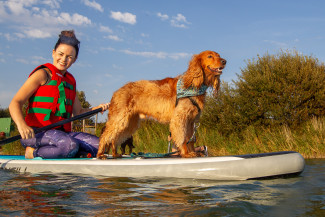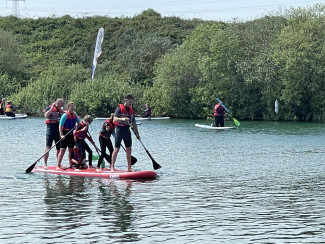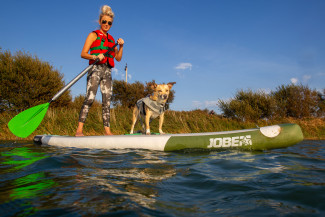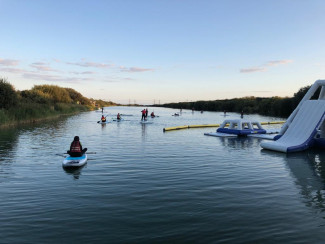 Using your own board at the lake
Now Available Monday Mornings 9:30am to 10:30am, bring your own Paddleboard and have Fun on the Lake
Or any Pups on SUPs Evening, dates as above 
Other times it can be challenging to offer SUP owners the use of the lake as there are activities on the lake that cannot be shared with SUPs. Our rental SUPs have a section of the lake that experienced SUPers may find a little restricted. 
There is much more flexibility weekdays low season where you may be able to use the whole lake – subject to availability. 
Have a question or would like to talk to a member of the team? No problem, we're always here to help.
Call Us

Important Information
Confidence in the water and ability to swim is essential.
Sessions are 1-hour, inclusive of a 10 minutes tuition & safety briefing.
Wetsuit & Buoyancy aid included – no hidden extras.
Minimum age of 6 years old, we recommend children under 11 are accompanied by an adult on the lake
We recommend children under the age of 8yrs share a SUP with an adult - just add SUP Passenger at checkout. 
 Please arrive 45-minutes prior to your activity time.
If you arrive later you may miss your session
Book your stand up paddle board session
Pups on SUPs
Please note the following important information:
We love dogs at the lake and want everyone  to have the best time. You are responsible for your dog at all times
Dogs coming to Pups on SUPs must be friendly, well-socialised and up to date with their vaccinations. If your dog is showing aggression towards other dogs or humans you will be asked to leave.
Dog owners are welcome to let their dog off lead but must take responsibility for their safety and actions.
Action Watersports take no responsibility for your dog or its actions, you must keep them safe and if your dog harms another dog or person it will fall under your own liability.
If you or your dog are harmed by someone else's dog you must resolve the matter with the dog's owner – we take no responsibility for the actions of the dogs attending.
Confidence in the water and ability to swim is essential - for you and your dog
Wetsuit & Buoyancy aid included – no hidden extras (for humans), if you need one for your dog please bring one.
Any damage to equipment caused by your dog MUST be paid for
Harsh handling and unsocial dogs will result in the dog and handler being asked to leave Action Watersports immediately
CALL US TODAY