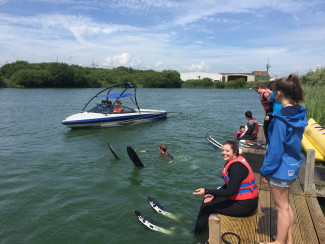 Looking to build confidence, self-esteem and fitness within your group, whilst having a fantastic time, making amazing memories?
We have over 20 years experience in offering activity packages to schools, cadet groups, clubs and other organisations, with many coming back every year.
We offer your students and young people an amazing outside, healthy environment, giving a fun experience and fantastic memories. The fun-filled day on the water gives an alternative physical and mental challenge of a range of water sports.
Do you work with Young People with Special Educational Needs & Disabilities, are you looking for amazing, confidence building experiences. We understand even overcoming the smallest challenge can be a major achievement. Building trust and respect, is a speciality of our team, we are here to help the young people to succeed. Showing them by following instructions and trusting the coaches they achieve a positive outcome. 
Team Building, induction days are available in term time and school holidays. Do you want a relaxed, but healthy environment for the young people to get to know one another? This has many benefits allowing you to watch how the young people interact and learn is just one.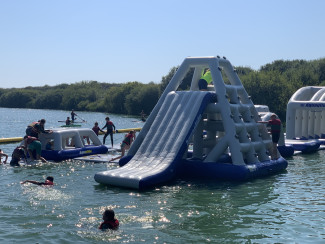 Share the Experience
Our passionate team will ensure that all members of your group benefit from the experience, with structured activities suitable for all.
By watching and learning from each other, a real camaraderie can be developed in your group which adds to the shared experience.
THE FUN RIDES ARE LOVED BY EVERYONE, these are a great addition to all other activities.
All equipment including wetsuits and buoyancy aids are provided, with full dry land tuition and safety briefing carried out by our staff prior to going on the water.
Year 6 Leavers for a pre-transition final blast with their classmates, making the most amazing memories.
4 Week Activity Programme, join us every week. Do your young people want to learn to Water-ski/Wakeboard or Master Paddle-Boarding?
Stand-up Paddle-boarding from just £65 per person 
Water-skiing/Wakeboarding from just £140 per person (minimum 9 people) the young people can learn these amazing sports, all equipment included.
Looking for an After School/Weekend Activity? You can choose as many activities as you would like, each week could be a different activity or you could bring a different group.
Email Us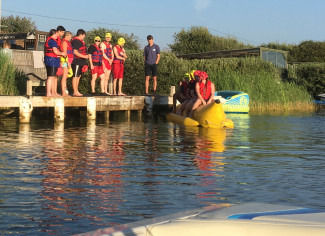 We can tailor make a package to fit your needs.
Every School and Group are looking for something different, this is where we can help and tailor make the experience for you.
Many young people prefer the fantastic opportunity to try new sports such as Water-skiing or Wakeboarding; develop balance, teamwork and coordination skills through Stand-Up Paddle Boarding and the exciting Fun Rides; or challenge them to complete the Aqua Park, our inflatable obstacle course. These brilliant activities will encourage your young people to push themselves outside their comfort zone whilst still having lots of fun and making many memories.
Budget & Safety are Important Considerations when Planning a Trip.
Risk Assessments, Safety Policies and our Insurance are available on request. Our safety policies are updated annually.
Examples of costs are below, these can be tailor made for your requirements. 
Term Time Discounts Available
Are you looking for a Great Value for Money Trip that offer the Young People Amazing Memories and a Healthy Activity?

Important information
Confidence in water & the ability to swim is essential 
Minimum age of 6yrs, recommended age 10 upwards
Buoyancy and wetsuit hire included – no hidden extras
Adequate adult supervision required whilst group is on dry land, changing etc
Before the young people take to the water there is a full safety briefing and tuition
Group leaders and teachers are welcome to join the young people on the activities but not complusory 
The young people LOVE the FUN RIDES, we recommend you add this to another activity, from just £11.50pp. 
Aqua Park & Fun Ride Experience for 30 young people from just £32.75 per person.
Aqua Park & Stand-Up Paddle-Board Experience for 30 young people from just £36 per person   
You need to allow approx. 3 hours at the lake for the above experiences
Aqua Park from just £23 per person 
Water-ski or Wakeboard Lesson from just £32.50 per person
Minimum numbers apply