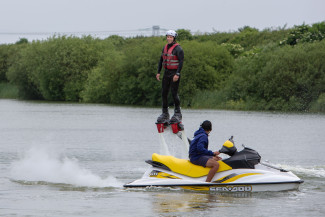 Flyboarding with Action Watersports
Attach the jets to your feet and then what a transformation! 
You glide through the water at speed before you start to raise up out of the water like a superhero.  The most fun you can have in or above the water. 
Our expert instructors will guide you through every step of your experience with a communication system in your helmet. All lessons are 1:1
Book Now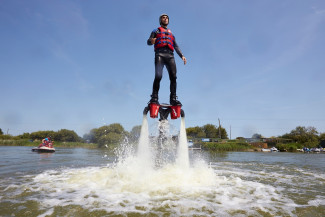 Complete Flyboard Package
This package really allows you to get to grips with the amazing sport.
It includes a safety briefing and dry land lesson to ensure all your questions are answered and you are happy before taking to the water. The experience is broken into 2 x 15-minute lessons on the lake, allowing time in between for any additional dry land training if required.
Everyone progresses at their own speed and your instructor will allow you to fly as high as you are able or hover just above the water if you prefer.
From just £89.99 per person
Book now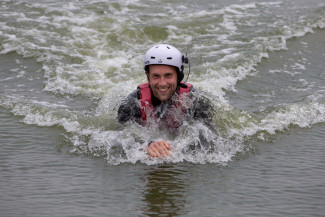 Group Flyboard Package
This is the best way to experience the activity of a lifetime with your friends or family.
If you have a group of 4 or more people all wanting to try flyboarding then the group package is for you. This taster session will give you each the experience of being propelled through the water by jets attached to your feet, feeling like a dolphin in a 15-minute lesson. You may impress your friends as you fly above the lake like a superhero.
Whether you're flying through the water or above the lake you'll never forget this amazing feeling. 
From Just 50 per person
Book Now

Important information
-    Minimum age of 16yrs
-    Pre booking essential
-    Wetsuit, buoyancy aid and helmet hire included, no hidden extras
-    Must be confident in water and able to swim
-    Allow a total of 2 hours at the lake for the complete experience
-    All lessons are 1:1