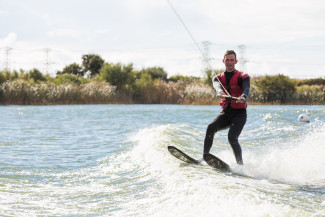 Experienced Water-skier? Our lake is waiting for you!
Trying to fit time for this amazing sport around busy lives and making it good value is something we are here to help you with. 
Book a day and time that suits you. You know the boat and instructor will be waiting at the dock for you. You can enjoy 15 minutes of Water-skiing pleasure.
Do you want the slalom course, to go out on 2 skis, to improve your technique or just immerse yourself in water-skiing? 
We are here for you! 
Call us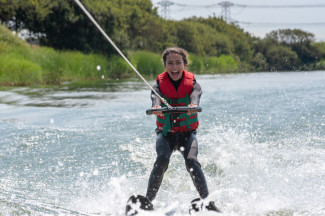 Visit our sheltered, purpose-built private lake
We operate one tournament boat at a time giving you the best water conditions possible.
We use the latest training techniques and equipment to ensure you have a progressive learning curve enabling you to reach your next level. 
All our staff are passionate about water sports and are here to ensure you have the best experience possible.
 
Prices from: 
£31 per person 1 x 15-minute session
£490.00 Block booking for 16 x 15-minute sessions
Book your water skiing session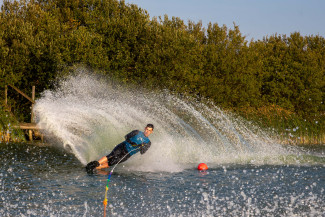 Slalom Skier
Fancy getting to grips with the Slalom Course or hitting that PB, we can make that possible under the coaching and guidance of Simon.
Ski Natique, Zero Off and Sheltered Course - the best conditions possible. 
Dedicated Slalom times where you get to enjoy the lake with other skiers means you can plan you busy schedule around skiing and meeting like minded people, a great social time. 
Book your Slalom Sessions online
Saturdays & Sundays 8am to 12:30pm, 4pm to 5:30pm.
Wednesday Afternoons 2:30pm to 6pm.
Other times available via telephone bookings on weekdays. 
Book your water skiing session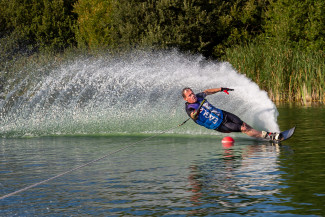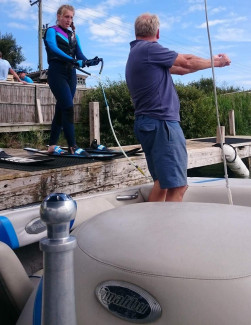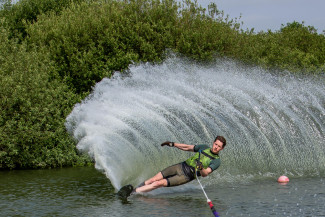 Important information
Experienced Water-skiers only, if you're a novice Water-skier please see our Packages for Beginners. 
Confidence in the water and ability to swim is essential
Pre-booking essential, please contact us prior to booking to ensure the lessons meet your needs
Please arrive 45-minutes prior to your activity time.
If you arrive later you may miss your session
Book your water skiing session
All prices exclude equipment, this way you only pay for the hire of the equipment you need. All equipment available for hire
Zero off Speed Control. 
Tournament Boats
Sheltered Lake
Have a question or would like to talk to a member of the team? No problem, we're always here to help.
CALL US NOW