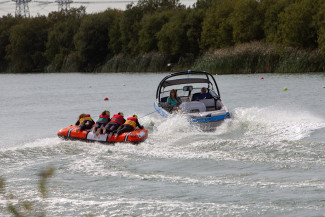 Fun Rides on the lake
All ages welcome, this fun-filled, crazy activity can be adapted to your needs. Who knows, you could be flying, crashing or speeding along the lake towed behind a speedboat – this is not one to miss.
Book Now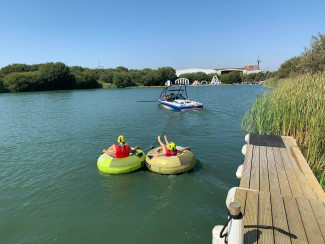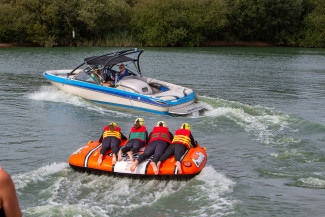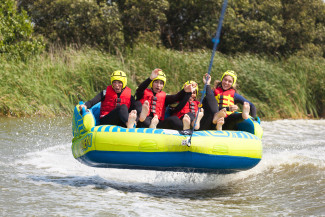 Slippery Banana or Relaxing Sofa 
Take on the challenge of riding the slippery banana boat or relaxing sofa for the longest time.
These rides can be perfectly tailored for you and your guests, whether you have younger, more timid riders or are in the need for speed this ride is extreme fun for everyone. Experience the adrenaline rush of this thrilling ride with your friends.
Enjoy these rides with 4 friends, if there's more you can swap; watch and laugh at each other!
Just £12.50 per person 
Book Now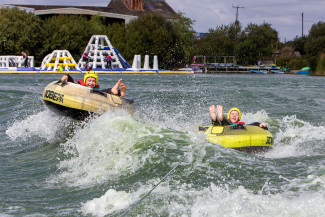 Rib Tickling Ringos
 Allow Imagine sitting in a large Ringo (aka Donut) and skimming across the lake attached to a speed boat. What could be better – well bring a friend for FREE!
Hang on tight as you bounce, dance and catch some air behind the boat, will you be the one to stay in your Ringo?
From just £39.99 for 2 
Book Now

IMPORTANT INFORMATION
-    Wetsuit and buoyancy aid hire included
-    Must be confident in water and able to swim
-    Each ride is 15 minutes
-    Discounts available if added to  Aqua Park or any other activities.  
-    We cannot guarantee the availability of exact Fun Rides, but rest assured there are always amazing Fun Rides available.